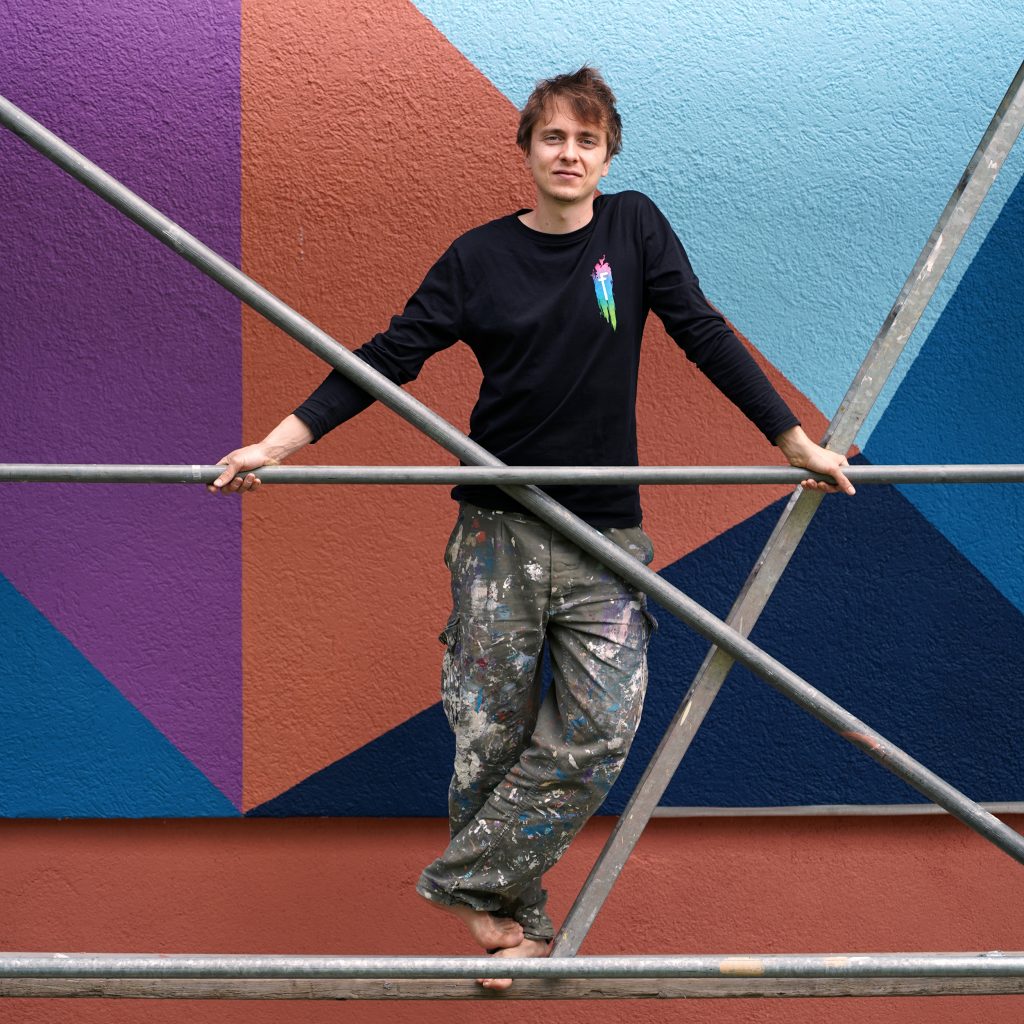 Danilo Halle carries his hometown in his last name.

The city of Halle carried the nickname "Gray Diva" for a long time because vacancies dominated the city. That contributed to its bad reputation. For Danilo Halle, this was an opportunity: from his early youth, the grandson of an art historian and son of a photographer was keen to give "his city" a more colorful face. Halle, a graffiti enthusiast, developed a feeling for the power and harmony of color and form in public spaces.

His eye for imagery and compositions was developed through a focus on photography and film in his studies of cultural and media education. Following his passion, Halle continued to professionalize until he finally co-founded Freiraumgalerie – Kollektiv für Raumentwicklung in 2012. In the course of his involvement with Freiraumgalerie, his own style increasingly emerged in the 2010s between tile mosaics and wall painting. Today, artworks move between mathematically abstract surface structures and blurry paint constellations of figures, but always referring to the structure and function of the place in which they are created.

As part of the Freiraumgalerie collective, Halle now plans and realizes artworks that function as space-creating impulses even beyond the borders of his home country. He is a well-traveled globetrotter and at the same time closely interwoven with the identity of his birthplace.
Scholarships
Collaboration work scholarship of the Art Foundation Saxony-Anhalt 2015
Solo Scholarship holder of the Art Foundation Saxony-Anhalt 2018
Exhibition Scholarship holder of the Art Foundation Saxony-Anhalt 2020
Residences
Weidenthal, Romania / currated by FIS ART 2018
Reșița, Romania / invited by cityhall of Reșița 2019
Phnom Penh, Cambodia / currated by K-Bach Gallery, supported by German Embassy in Cambodia 2019
Exhibitions
Group exhibition "Don ́t tell Che"- LaBim Halle 2011
Group exhibition "Gathshilas Eye"- Gatshila, India – 2012
Group exhibition "Freiraumgalerie Starter" Halle – 2013
Group exhibition in the context of the "Fete de la musique" Halle -2013
Curation of the exhibition "All You Can Paint – Effects" 2015
Group exhibition "Atelier-Opening-Triftstraße" Halle 2019
Group exhibition "New Year Reception Atelier Triftstraße" Halle 2020
Own Publication
"Freiraumgalerie – Stadt als Leinwand" – 300 pages / hardcover 2015
Published by others
"Leave your city" by justyo 2016
"Blackstreetjournal" Urban Art Journal by Blackstreet 2017
"Heimat sammeln" by Art Foundation Saxony-Anhalt 2020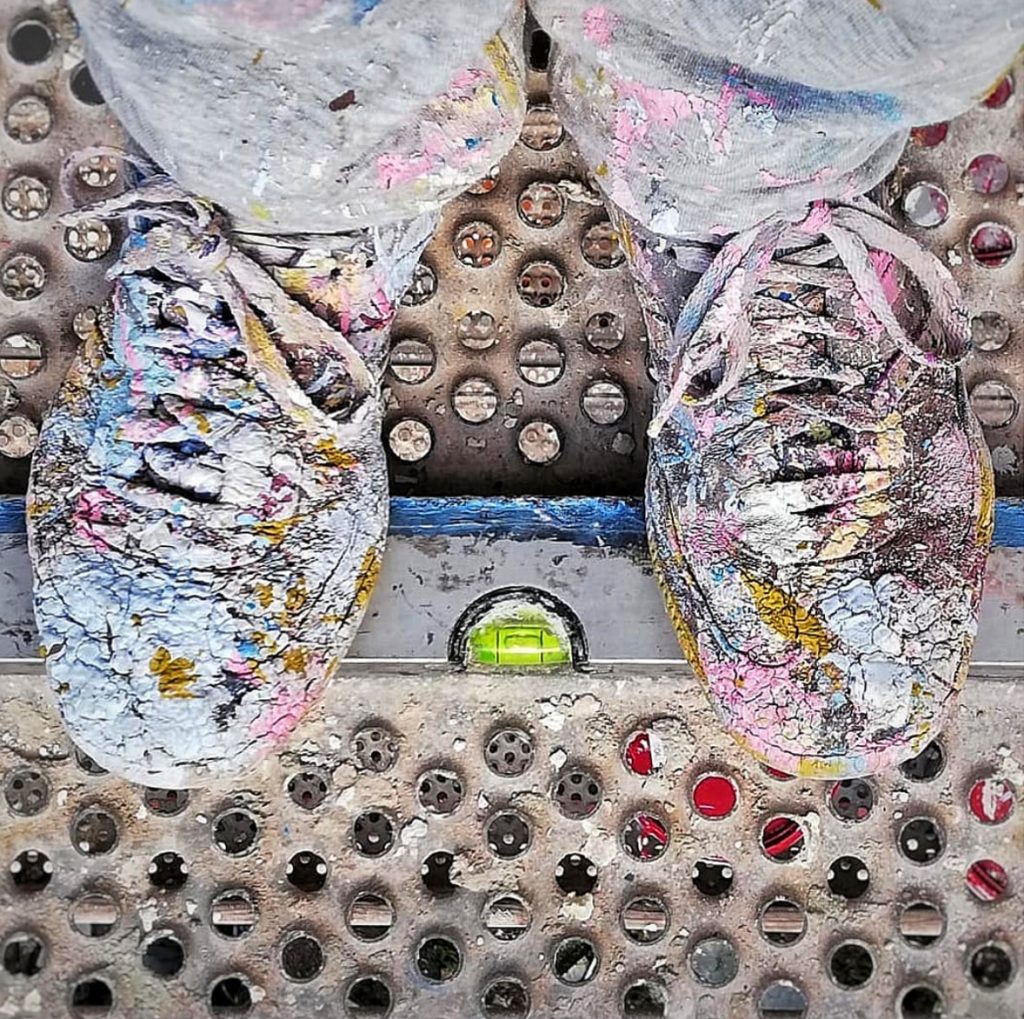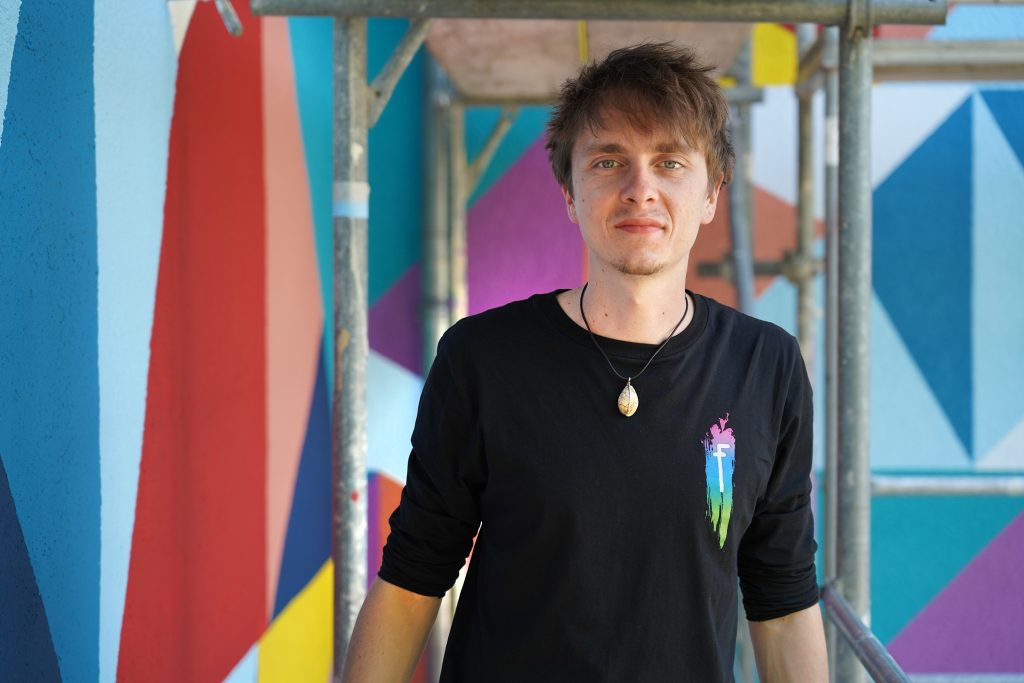 Halle's artistic work is inspired in particular by the grand masters of classical muralism: he analyzes their techniques, their planning structures and their way of conveying content. For him, murals are more than pleasing decoration of urban space – they are testimonies of time, documentation of socially relevant issues, and powerful instruments of urban development.
Danilo Halle draws inspiration for the social implications of his art from local neighborhood work and his numerous international travels.
Since 2012, Halle has curated over 150 murals, organized urban art festivals, and developed concepts for art in public spaces. Thus, in addition to the day-to-day craft business of the visual artist, he is also familiar with the side of the planner and communicator. With "Balanceakt", one of Freiraumgalerie's largest art projects to date, he is not only setting new standards for large-scale mural ensembles in Europe. Also, he illustrates his personal concept of modern mural painting: art in public space that masters urban planning challenges, combines opposites and can be experienced by its viewers. Residents are integrated into the artistic process, are part of the mural and recognize themselves in the monumental works of art. They identify with their living environment, with their neighborhood, their city.